Serving The Villages Community Since 1997
If you are a new resident in The Villages, we invite you to visit our Fieldcrest office, which opened in 2005 for comfortable dental care in The Villages, Florida, that you may actually enjoy! Read what our patients have said about their visits with our dentists below. We invite you to leave us a review here or on one of our social media platforms. And of course, please call Village Dental at 352-633-4145 to plan your visit with us. This is just one of our three golf cart-accessible offices.
Excellent care with state of the art equipment. The staff was kind polite and very capable. Dr. Farrell was my dentist and did great work. He explained what was going on and what was needed to correct the issues I was having. – Sterling S.
Very efficient and modern. Friendly staff and Doctor that explained the procedure. Highly recommend when you need some work or just a cleaning and a exam.– Paul V.
Happy with professional dental service.– Don V.
Very professional, informative and thorough!– Reinaldo S.
Great care by my hygienist!– Beth H.
Thanks to Dr. Hall and his dental assistants, my teeth are clean, shining and healthy..The overall team at Village Dental are courteous and caring.– Andrew K.
We called in for an emergency situation and received an appointment that morning. We were given a quote and the dentist took the time to explain our options. We were very impressed with the state of the art technology and the kindness of the staff.– Peter A.
Village Dental is a great group. All staff and Doctors are caring, kind and thoughtful. I would not change my dentist. I am very pleased with the practice. My dentist in Ohio gave me Dr. Hards name when I moved full-time to The Villages. Glad he did.– Judy W.
Have been going to Village Dental since moving here. Great dental practice. Moving to Citrus County and will still return to this practice for all our dental needs.– Tom S.
Excellent service and care – definitely recommended and wouldn't dream of going elsewhere– Jennifer P.
I had some major dental work done this morning. Dr Hall and his staff did a wonderful job putting me at ease and my teeth look great!– Patricia J.
Another great visit with my hygienist, Tammy…..she is patient and calming and my teeth are doing so much better with her care. Dr. Hards is probably the kindest and best dentist I've ever had….– Liz C.
Today was my new patient appointment and it was a totally pleasant experience. Every single employee was professional, polite and happy. The entire process was efficient with no down time. And the quality of the X-rays and photos were excellent. Then Dr. Dulgar spent lots of time with me going over the condition of all my teeth. I highly recommend Village Dental.– Jeff N.
Just moved to TV. Today was the most comprehensive exam I've ever had. Dr. Dulgar and Sherry were very thorough, taking a lot of time to explain the x-rays and pictures of every tooth in my head, from every angle. Looking forward to my consultation to find out about a couple of crowns that I need.– Lynn S.
Since I have not visited a dentist office for many years I do not have a clear comparrison. However I did find all the personnel to have been very accomadating, knowledgeable & personable. Although a decision about what needs to be completed is in question, I am comfotable with the serviice I received. Thank You,– Bob C.
Pleasant atmosphere, great teamwork, excellent dental care.– Chris W.
Wonderful staff, friendly, helpful, and most importantly, professional. Explain everything thoroughly.– Doug C.
Pleasant, excellent care. Staff members are very caring– Barbara P.
Very professional personal, great practice.– Joseph M.
Dr. M. Dulgar and office staff were very professional, caring and responsive to all my needs.– L. M.
I have dental phobia, but couldn't be more pleased. Appointments are always timely and all staff I encountered did extra to minimize discomfort and assist me. Dr Hall is a true artist, he makes it work, and it looks good too.– Chris G.
This was a cleaning/exam visit– Hygienist Beth and Dr Hards– As always, I was treated very kindly, with great concern for my comfort and my dental health. I am normally very uptight going to a dentist. but after 2 years + of going to Village Dental, I feel fairly comfortable during my visits– Penny T.
I have had very positive interactions with a variety of staff at Village Dental. As a new patient I have many questions and each staff person, as well as my hygienist & X-ray person & Dr Hards have treated me with respect and provided very individualized attention. Each person has been terrific! Thanks!– Anonymous
Dr. Hall. And sherry Are excellent.– Mary Z.
At Village Dental, Dr Hards and two assistants recently drilled and inserted an implant socket thingamajigger in my gum as part of the multi-step process of replacing a failed (and very important) tooth with an implant. On a previous visit he had extracted the bad tooth and did the initial preparation for the implant. Throughout this process Dr Hards and his team maintained a steady professionalism and encouragement that kept me calm during these stressful procedures. They always made sure I knew exactly what they were doing and how it was going. I never felt any pain. Village Dental uses advanced state-of-the-art equipment and has a highly trained staff, all of them with outstanding people-skills. They do a very thorough preliminary exam and lay out all of your options and costs. On the advice of other happy customers I transitioned to Village Dental after years with a well known national dental provider chain that did not do as good a job of evaluating, planning, and tracking my dental health care.– Robert G.
Have never had better treatment from a dentist or their office people. Everyone took the time to explain everything going on and still can't believe how absolutely painless the whole process was – I didn't even feel the gum numbing shots! Had cracked tooth pulled and a bridge put in. Wish I had a dentist of this caliber years ago.– Jamie M.
Perfect crown fitting! Always the BEST service here.– Ric B.
As always for the last several years, Tammy did a great job. Everyone from the front desk to hygienist to dentist are great and caring.– Joanne C.
Beth was very professional, courteous, and explained every part of the process. Dr. Hall was very professional, easy to understand, and explained in great detail the treatments and options available.– Jack S.
Tammy always is welcoming and promptly attends to my dental hygiene professionally and completely. Thank you!– Dennis P.
The dental technician was knowledgeable, caring and gentle.– Suzanne C.
Had a new to me hygienist, named Laura. She was very good. A new piece of equipment was used at the beginning to wash away plaque and polish teeth. It was a fun spray. Laura was efficient and pain free in her work. I like that.– Martha H.
Entire staff is 'always' friendly and professional. Special thanks to Beth, my hygienist, who is the best!– Connie S.
I had an implant done and every single person I dealt with during the process- from Dr. Hards, and all his staff- was professional, friendly, and genuinely concerned about my level of comfort about the procedure. They kept me informed about exactly what they were doing and why, answered all my questions, and generally, just did everything they could to make me feel relaxed. Even offering me warm blankets during the procedure. My surgery went perfect. I don't love going to the dentist, but I couldn't have asked for more during this experience.– Stanley M.
My appoint was right on time. The new equipment for doing a cleaning was a lot better than the old way. My office visit went very well. My wife and I are both very happy with Village Dental.– Gregory H.
Everything went well. The new water pick procedure is a little messy and at times a little sensitive on the gums, but I guess that is to be expected.– Frank H.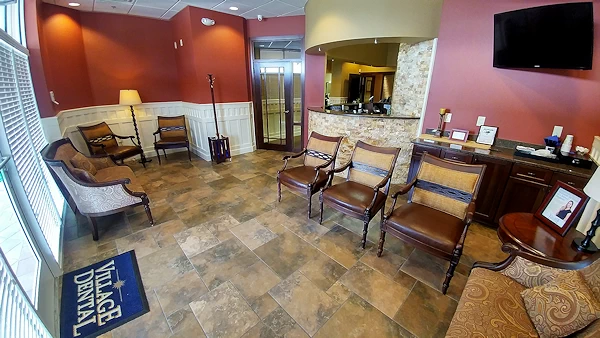 Dr. Edward J. Farrell, DMD, MAGD, AFAAID
Dr. Farrell founded Village Dental and has earned a Mastership Award from the Academy of General Dentistry.
Dr. Richard P. Hall II DMD, MAGD, AFAAID
Dr. Hall is a graduate of the  University of Florida College of Dentistry.
Dr. Michelle Dulgar, DMD
We are excited to have Dr. Dulgar join our team! She is a skilled dentist who will bring out the best in your smile.
Dr. Carson Smith, DMD
We are excited to have Dr. Smith as the newest member of our team!
WHAT OUR PATIENTS ARE SAYING
TESTIMONIALS
Berry B.
"The day I got my permanent teeth, I could eat again! Even my health problems are gone. Village Dental gave me more than a new smile. They gave me my life back."
James D.
"The staff is educated, professional, and willing to please. Village Dental does excellent work."
Joyce R.
"The spirit of the office is so friendly and professional, and Dr. Farrell is perfect for me. I can eat and smile comfortably again!"
Lisa D.
"The time that all staff members dedicated to me, and the technology and state-of-the-art equipment made it a really positive experience. Village Dental blew me away!
3 Convenient Locations in The Villages to Serve You!
Fieldcrest Location
540 Fieldcrest Drive
The Villages, FL 32162
Located on 466 near the Publix shopping center
LaGrande Office
111 Lagrande Blvd
The Villages, FL 32159

Located on 441 near Spanish Springs
Pinellas Office
2532 Burnsed Blvd
The Villages, FL 32163
Located in the Pinellas Shopping Plaza
Nextdoor Neighborhood Favorite FIVE Years in a Row!