Serving The Villages Community Since 1997
We offer a variety of dental treatments in The Villages, Florida. Our dentists and team want to make sure that you understand all of your treatment options and that you feel comfortable with moving ahead with a plan for improving your smile. We invite you to visit Village Dental for a complimentary consultation to discuss your options for dental care. To schedule your consultation, call our office today at 352-633-4145. Our team also offers emergency dental care, and you should call our office if you are experiencing a problem to check with our team about emergency charges. Our three offices are easy to access via golf cart, and we look forward to seeing you soon.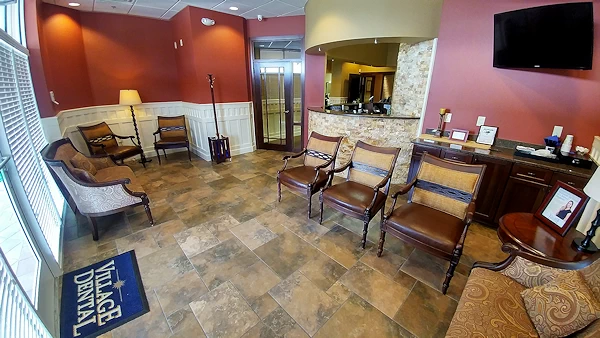 Dr. Edward J. Farrell, DMD, MAGD, AFAAID
Dr. Farrell founded Village Dental and has earned a Mastership Award from the Academy of General Dentistry.
Dr. Richard P. Hall II DMD, MAGD, AFAAID
Dr. Hall is a graduate of the  University of Florida College of Dentistry.
Dr. Michelle Dulgar, DMD
We are excited to have Dr. Dulgar join our team! She is a skilled dentist who will bring out the best in your smile.
Dr. Carson Smith, DMD
We are excited to have Dr. Smith as the newest member of our team!
WHAT OUR PATIENTS ARE SAYING
TESTIMONIALS
Berry B.
"The day I got my permanent teeth, I could eat again! Even my health problems are gone. Village Dental gave me more than a new smile. They gave me my life back."
James D.
"The staff is educated, professional, and willing to please. Village Dental does excellent work."
Joyce R.
"The spirit of the office is so friendly and professional, and Dr. Farrell is perfect for me. I can eat and smile comfortably again!"
Lisa D.
"The time that all staff members dedicated to me, and the technology and state-of-the-art equipment made it a really positive experience. Village Dental blew me away!
3 Convenient Locations in The Villages to Serve You!
Fieldcrest Location
540 Fieldcrest Drive
The Villages, FL 32162
Located on 466 near the Publix shopping center
LaGrande Office
111 Lagrande Blvd
The Villages, FL 32159

Located on 441 near Spanish Springs
Pinellas Office
2532 Burnsed Blvd
The Villages, FL 32163
Located in the Pinellas Shopping Plaza
Nextdoor Neighborhood Favorite FIVE Years in a Row!