COVID-19 & Patient Safety
Serving The Villages Community Since 1997
COVID-19 & Patient Safety
August 17, 2020
At Village Dental, we are aware of news articles being run about the World Health Organization's interim guidance advising "routine non-essential oral health care be delayed until there has been sufficient reduction in COVID-19 transmission rates."
The ADA® has released the following statement in direct response, noting that "Dentistry Is Essential Health Care." The Florida Dental Association, as well as our doctors, strongly disagree with the World Health Organization's position. As our patient, your safety and well-being are our top priority. At all times, we follow the most up-to-date guidance and infection control recommendations made by the American Dental Association (ADA), the U.S. Centers for Disease Control and Prevention (CDC) and the Occupational Safety and Health Administration (OSHA).
Each of these organizations have provided guidance that it is safe for dental offices to treat patients as long as they are using the proper protocols and personal protective equipment. For decades, dentists have been using the highest level of protocols to prevent the spread of infection. And since the onset of COVID-19, Village Dental has been implementing additional precautions to protect patients. To date, there have been no documented cases of COVID-19 being transmitted to or from patients in dental offices. This shows that our actions and our personal protective equipment are working.
In addition to our office protocols that keep you safe, here is what are we doing here at Village Dental to stay up to date!
We stay up to date on all new recommendations, research and/or changes from the CDC, OSHA and ADA to better protect our patients and our team.
We regularly review community-based spread in our area to make decisions using the above guidance.
We keep a close eye on potential shortages and new innovative products from our suppliers of our personal protective equipment so that we always have what we need to keep you and our team safe.
We meet with our team often for training on any changes in order to provide you with five-star, safe and effective dental treatment from all of our locations and our providers.
Regular dental visits are important because treatment, as well as prevention of dental disease, helps keep people healthy. We want you to know that it IS safe to go to the dentist. And it is important, now more than ever, for patients to maintain their oral health and not neglect their dental care needs. Science has proven time and time again that your oral health effects your overall health. And we want to see our patients be healthy! In a recent statement about essential dental care, ADA President Chad P. Gehani, DDS, said, "Beyond teeth and gums, the mouth also serves as a window to the rest of the body and can show signs of infection, nutritional deficiencies and systemic diseases."
We will continue following the proven guidelines set forward by the American Dental Association and our state and federal governments to provide treatment safely and effectively. If you have any questions regarding your risk at your next visit or our office protocols, please call our office and speak to one of our team members about your visit! In addition, if you feel you are high-risk for severe symptoms of COVID-19 and have a dental emergency, you may also ask about our teledentistry option to meet your dental care needs. You can reach our office at 352-633-4145.
We love our Village, and we look forward to seeing you soon!
Sincerely,
The Doctors and Team at Village Dental.
To schedule your visit with our dentists and learn more about dental safety in The Villages, Florida, contact a member of our team.
Should I get my teeth cleaned during the pandemic?
Yes, absolutely. Missing your routine dental cleaning appointment can lead to periodontal disease and tooth loss. Plaque and harmful bacteria that live underneath the gumline can cause chronic inflammation, which can lead to serious health issues.
Routine dental cleanings with your hygienist greatly reduce the amount of inflammation in the mouth and can prevent chronic inflammation in the rest of the body. Your hygienist removes the harmful plaque and bacteria that cause periodontal disease and that can contribute to heart attacks, stroke and tooth decay.
At Village Dental, we have always practiced universal precautions following CDC guidelines. With COVID-19, we have implemented even more PPE to help keep our patients safe. All of our hygienists wear masks, face shields and gowns. We continuously wipe down all surfaces in the waiting areas, restrooms, front desk and treatment rooms.  Every operatory has its own air purifier along with new advanced suctioning devices to reduce the amount of aerosols in the air.
As always, we are committed to providing five-star service to all of our patients including safety as our first priority. We want our patients to feel protected and comfortable when they come in for their appointments. It is highly recommended by the American Dental Association that you continue to schedule your dental appointments during COVID-19. These appointment help you maintain good oral health, boost your immune system and lead to better health overall. Please feel free to call with any questions you may have. Our hygienists are also available to address all questions and concerns.
"Oral health effects overall health, and regular dental care supports a strong immune system." – Dr. Edward Farrell
To schedule your visit with our dentists and learn more about dental safety in The Villages, Florida, contact a member of our team.
23 Years in The Villages!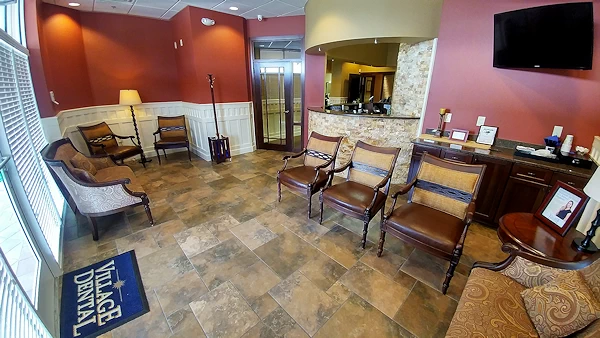 Dr. Edward J. Farrell, DMD, MAGD, AFAAID
Dr. Farrell founded Village Dental and has earned a Mastership Award from the Academy of General Dentistry.
Dr. Richard P. Hall II DMD, MAGD, AFAAID
Dr. Hall is a graduate of the  University of Florida College of Dentistry.
Dr. Michelle Dulgar, DMD
We are excited to have Dr. Dulgar join our team! She is a skilled dentist who will bring out the best in your smile.
Dr. Carson Smith, DMD
We are excited to have Dr. Smith as the newest member of our team!
3 Convenient Locations in The Villages to Serve You!
Fieldcrest Location
540 Fieldcrest Drive
The Villages, FL 32162
Located on 466 near the Publix shopping center
LaGrande Office
111 Lagrande Blvd
The Villages, FL 32159

Located on 441 near Spanish Springs
Pinellas Office
2532 Burnsed Blvd
The Villages, FL 32163
Located in the Pinellas Shopping Plaza