Serving The Villages Community Since 1997
The LaGrande office of Village Dental opened in 1997 and provides quality dental care in The Villages, Florida, and is golf cart accessible. Call us at 352-633-4145, and our team will be happy to schedule your appointment with our dentists. You can read all about our patients' experiences with our dentists and our team below. We invite you to follow us on social media to tell us about your visit at our office. You can also leave a review here.
Great place, great value, love all the employees. Been to 2 of there location doing major work and always pain free and appreciate the extra care. Dr. Hall and Kelly my hygienist are Great! – Chris C.
I have had extensive dental work done at Village Dental recently and more to come. They have had to correct previous work done. The whole team is excellent, professional, and thorough. I highly recommend Dr. Farrell and his expert team. – Linda W.
Great office experience! – Sandra H.
Great service..very professional.
– Sky L.
The staff was amazing and Dr Farrell is awesome!!!
– Tomorrow L.
Outstanding….A+….from the front desk to the chair and back again….You're going to pay for what you get, but what you get is the best.
– Richard D.
I have been going to Village Dental for many years and have always had a good experience. Beth is the best hygienist ever. Dr. Hards was recommended to me and that person said he is the best Dentist he ever had. I agree. Would recommend them to anyone.
– Jane C.
had a cleaning today, always a pleasure to see Laura and the team at La Grande plaza……very caring, professional office, would HIGHLY recommend seeing them!
– Leslie L.
Excellent experience with Dr Hards
– Don M.
In my opinion, the hygienist did a thorough and efficient cleaning of my teeth!
– Ruth W.
Very good service. I like to use Village Dental due to the staff that will make you comfortable and you will have top care of your teeth.
– Bill B.
Dr. Hards and his staff have taken care of us for nine years and provide the best dental care we've ever had.
– Fredrick S.
Kelly always does a good job. A little talk and work poof the teeth are clean
– Ronald D.
EXCELLENT VISIT AT VILLAGE DENTAL LAUREL IS A QUALIFIED PROFESSIONAL
– James S.
The Villages Dental team made sure I was comfortable during my visit. I was surprised this surgery was accomplished in a shorter amount of time than the previous one two years ago. I would recommend Village Dental for any implant surgery you might need.
– Heather S.
Always a warm comforting and friendly environment If you are looking for good quality dental care, you have to try Village Dental! I'm always glad that we chose this office for our dental care. It's such a relaxing environment. Never thought I'd feel that way at a dentist office!
– Veronica E.
Theresa @ the front desk is always pleasant & helpful. Laurel Bax was an awesome Dental Assistant and of course Dr. Hards was his usual wonderful self. My thanks to all of you and have a Happy Thanksgiving!
– Ramona C.
always a pleasure to be serviced by Laurel. she is gental, pleasant, knowledageble, and has a great sense of humor
– Vincent C.
Another great visit to my new favorite dental office! Very friendly and professional staff. Laurel was competent and efficient with her exam and cleaning. I felt well informed and sparkling when I left
– Beth E.
Very professional explained the procedures so I knew what to expect now on to healing
– Fr. James L.
Service on time and as gentle as can be expected.
– Robert B.
Addressing a problem with my gums, a referral was made to a specialist for evaluation and action. Knowing that Village Dental takes the best action to remedy a problem is comforting. ?
– John L.
Most of my time was spent with Sherry who was efficient and professional while still managing to be friendly. She was attentive to my comfort and explained every step of the thorough x-ray-ing and photographing of my teeth and mouth. Dr Farrell was also efficient and professional so that when I left the office, I felt confident that my oral health was in very good hands. Looking forward to my cleaning with the hygienist.
– Beth E.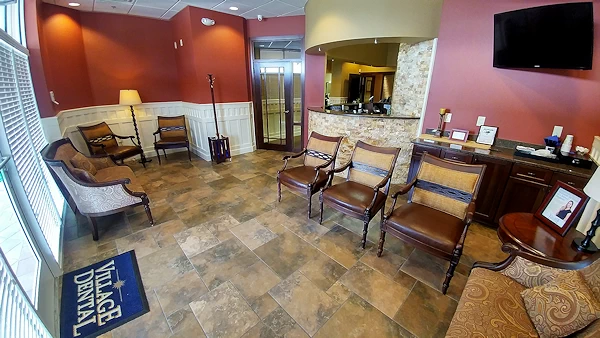 Dr. Edward J. Farrell, DMD, MAGD, AFAAID
Dr. Farrell founded Village Dental and has earned a Mastership Award from the Academy of General Dentistry.
Dr. Richard P. Hall II DMD, MAGD, AFAAID
Dr. Hall is a graduate of the  University of Florida College of Dentistry.
Dr. Michelle Dulgar, DMD
We are excited to have Dr. Dulgar join our team! She is a skilled dentist who will bring out the best in your smile.
Dr. Carson Smith, DMD
We are excited to have Dr. Smith as the newest member of our team!
WHAT OUR PATIENTS ARE SAYING
TESTIMONIALS
Berry B.
"The day I got my permanent teeth, I could eat again! Even my health problems are gone. Village Dental gave me more than a new smile. They gave me my life back."
James D.
"The staff is educated, professional, and willing to please. Village Dental does excellent work."
Joyce R.
"The spirit of the office is so friendly and professional, and Dr. Farrell is perfect for me. I can eat and smile comfortably again!"
Lisa D.
"The time that all staff members dedicated to me, and the technology and state-of-the-art equipment made it a really positive experience. Village Dental blew me away!
3 Convenient Locations in The Villages to Serve You!
Fieldcrest Location
540 Fieldcrest Drive
The Villages, FL 32162
Located on 466 near the Publix shopping center
LaGrande Office
111 Lagrande Blvd
The Villages, FL 32159

Located on 441 near Spanish Springs
Pinellas Office
2532 Burnsed Blvd
The Villages, FL 32163
Located in the Pinellas Shopping Plaza
Nextdoor Neighborhood Favorite FIVE Years in a Row!