Our Pinellas Plaza Office
Serving The Villages Community Since 1997
Our Pinellas Plaza Office
We have a long history of providing quality dental care in The Villages, Florida. Please contact our Pinellas Plaza office at 352-633-4145 to schedule your visit with our dentists and team. Everyone at The Villages looks forward to talking with you soon and helping you achieve a great smile that can serve you well for a lifetime. Our Pinellas Plaza office opened in 2014 and is easy to reach by golf cart to make your visit convenient.
Emily is the best dental hygienist I've ever had. She's friendly, yet professional, patient, thorough, informative.– Heather
I was very apprehensive going to a new dentist, but I am pleased to say that I was very happy with my choice. The staff was professional and courteous and resolved my dental issue in a timely manner. Thank you!– Phil C.
Emily Rayl is the best Hygienist I have ever had. She is very personable, caring and thorough.– Debbie P.
Wonderful experience. Great staff and Dr. Ferrell was very thorough and explained everything that should be completed to insure years of healthy teeth. Very highly recommended.– Fred G
This is an amazing dental group. Dr. Hall is the BEST DENTIST in The Villages. He has a kind and thoughtful approach. You will absolutely love going to the dentist.– Calvin B.
Best, most thorough cleaning I have ever had. Thanks Emily.– Wayne W.
If this isn't your dental office, it should be. Everyone is at the top of their game!– Curtis B.
Again, exceptional positive service fr V. Dental. Talked with Jodi re: work plan & medication; thoroughly knowledgeable!– Anonymous
My experience with Village Dental yesterday was fantastic. I have had dental issues for many years and was apprehensive going to a new dental team. Meg was calming as she took a multitude of pictures. Then Dr. Farrell thoroughly went through the results with me. I felt my case and well being was most important to them. I already trust and would not hesitate to recommend Village Dental. I have chosen Village Dental to manage my dental needs.– Linda W.
Everyone was friendly and professional. Dr. Hardt was extremely nice and professional.– Bill B.
Outstanding service! Dr. Hall and his staff are so kind and caring. Very happy with my new 2 crowns. You always leave with a beautiful long stem rose. Thank you!– Karen H.
Great friendly service.– Henry W.
Beth was very nice, knowledgeable, and thorough.– Darlene M.
I was pleasantly surprised at how easily Laura adapted to my complex medical history and worked my cleaning the best way should could for me. We are planning to work together to retain healthy gums for further cleanings. Dr. Hall and his team are going to work out the best plan to fix my missing front teeth. My dear husband encouraged me to seek Dr. Halls help and I am so glad I followed his encouragement.– Ellen P.
Extensive evaluation on my 1st visit. Very professional and informative.– Jack B.
I found Village Dental to be very professional.– Ralph G.
The staff and Dr. Hards are always smiling and friendly. They always answer my questions and address any concerns quickly and completely. Very efficient and thorough in every way. Best experience at a dentist's office ever.– Randy J.
I have been totally satisfied by every aspect of the dentistry and personal concern of Dr. Hards. I, therefore, recommend, without reservation, Dr. Hards to all those seeking dental treatment of the highest quality.– John D.
I came in nervous because I needed to have a cap done and Jen the dental assistant went out of her way to make me feel relaxed and put on music I liked. I have a few medical problems I was concerned that would maybe bother them while working on my teeth. Both Dr Hall and Jen again made it clear that whatever I needed to feel comfortable, they would accommodate me. Both were so friendly and caring at all times. My husband and I have been going to Dr Hall for 12 years and think the world of him and his staff. They are all so caring and honest about any dental work needed.– Marla H.
I am such a baby in the dental chair but with Dr. Hard's gentleness and patience I made it through." Meg" was a wonderful caring Ass't to the Dr. She was very concerned about my well being. She gave me written instructions of how to care for my new teeth.– Sybil E.
Wonderful experience – staff very professional and courteous. Exam extremely thorough and Dr Hall very personable and attentive. Very highly recommended!!!!!!!!– William P.
As always, had as good as an experience that one could possibly have at the dentist… Dr.Hall and Colleen were very professional as always, make you feel very in the chair.– Stephen E.
My visit to Village Dental was truly outstanding, but it really began with the first call I made to set up an appointment. I was asked valid questions and set up with the location nearest my home. It was about making it comfortable and easy for me. The day of my appointment I was genuinely greeted by the staff up front. The people that work in this office are all knowledgable, caring and professional. I have had an excellent two visits, and wanted to share my positive experience. I would like to recognize Dr. Hall, ( he is over the top!) Precious, who took all my x-rays and explained each one as she was taking them and why, ( and she is truly precious!) Holly, the Hygienist, who is amazing! Thank you to all the staff at Village Dental at Pinellas Plaza.– Esther T.
You tell me things to do to improve my dental health and I appreciate that.– Carolyn R.
Two routine cavity fillings. Jen was informative, helpful, and friendly. Dr. Farrell was very friendly and welcoming and easily allayed my trepidations as to the drilling and filling procedures. Believe it or not, I felt no pain! Two teeth were drilled, cleaned, and filled in less than 30 minutes. My dental visit was flawless. Thank you Village Dental, Pinellas Plaza.– Suzanne W.
Clean, pleasant atmosphere. Hygienist did a great job cleaning my teeth. Very pleasant staff.– Rebecca C.
As always, the staff was both professional and friendly. I received my first cleaning since receiving my new crowns/bridges. We also reviewed the methods for maintaining my pearly-white teeth, going forward. I love these people. Going to the dentist is no longer traumatic.– Craig B.
Great staff. I had a thorough exam and they are going to develop a plan to fix my dental needs.– Robert V.
Dental hygienist, Emily, was very knowledgeable and professional, took time to explain how I can improve my teeth and gums.– Robert F.
I was very pleased with the cleaning of my teeth by Emily . She did a great job and I would recommend her completely.– William F.
As always, my visit was outstanding. The waiting room staff greeted me cordially upon my arrival and I was taken to the treatment room at my appointed time. Holly was her usual sweet, attentive and caring self. She performed her duties in a professional and efficient manner, explaining all the treatments as they were performed. The checkout process was quick and efficient and the cost of the services was quite reasonable.– Odell R.
As always, my experience today, 10/28/19, was excellent. Heartily recommend this practice.– Susan E.
Every experience that my husband and I have had at Village Dental has been extremely professional and they go out of their way to make you comfortable. They are definitely concerned about the patient and do a great job. We could not be more satisfied.– Cassandra B.
Emily is a true professional. She does an excellent job and am very pleased that I chose Village Dental.– Carl B.
Professional, punctual, friendly, totally competent– Marie S.
The sudden experience of a toothache under a bridge was scary–I feared a lot of pain and the loss of a lot of $$$. Dr. Hall solved the problem in 10 minutes, taking away the pain & leaving my wallet nearly intact. He's the best! I was doing a happy dance by the time I reached my car.– Cynthia M.
The office staff is very professional. Holly is a very skilled hygienist. Only thumbs up for The Village's Dental.– Michael P.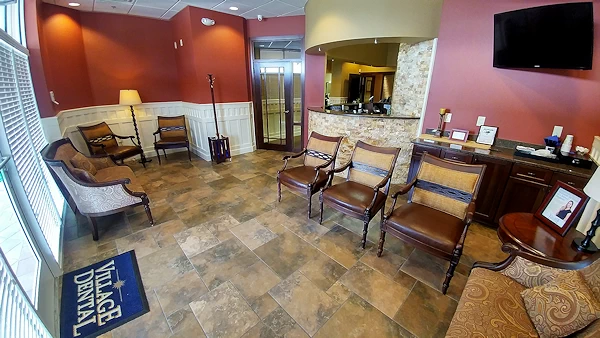 Dr. Edward J. Farrell, DMD, MAGD, AFAAID
Dr. Farrell founded Village Dental and has earned a Mastership Award from the Academy of General Dentistry.
Dr. Richard P. Hall II DMD, MAGD, AFAAID
Dr. Hall is a graduate of the  University of Florida College of Dentistry.
Dr. Michelle Dulgar, DMD
We are excited to have Dr. Dulgar join our team! She is a skilled dentist who will bring out the best in your smile.
Dr. Carson Smith, DMD
We are excited to have Dr. Smith as the newest member of our team!
WHAT OUR PATIENTS ARE SAYING
TESTIMONIALS
Berry B.
"The day I got my permanent teeth, I could eat again! Even my health problems are gone. Village Dental gave me more than a new smile. They gave me my life back."
James D.
"The staff is educated, professional, and willing to please. Village Dental does excellent work."
Joyce R.
"The spirit of the office is so friendly and professional, and Dr. Farrell is perfect for me. I can eat and smile comfortably again!"
Lisa D.
"The time that all staff members dedicated to me, and the technology and state-of-the-art equipment made it a really positive experience. Village Dental blew me away!
3 Convenient Locations in The Villages to Serve You!
Fieldcrest Location
540 Fieldcrest Drive
The Villages, FL 32162
Located on 466 near the Publix shopping center
LaGrande Office
111 Lagrande Blvd
The Villages, FL 32159

Located on 441 near Spanish Springs
Pinellas Office
2532 Burnsed Blvd
The Villages, FL 32163
Located in the Pinellas Shopping Plaza
Nextdoor Neighborhood Favorite FIVE Years in a Row!