Serving The Villages Community Since 1997
Our Hygienists in The Villages
With our dental team, you can sit back and relax — you are in good hands. Our hygienists and every member of the Village Dental family are well-trained and very proficient at caring for you and your smile. Beyond that, we are friendly and attentive and will make sure that all of your needs are met and that you have an outstanding patient experience. We invite you to contact one of our golf cart-accessible dental offices in The Villages to learn more and book an appointment with our dentists and hygienists.
Meet The Hygienist of Village Dental
Tammy
REGISTERED DENTAL HYGIENIST
I was born in Salem, Oregon, and graduated from high school in 1983. I joined the U.S. Army and was trained as a dental assistant. I spent two years at Fort Hood, Texas, where I met my husband. We have been married for over 30 years. I worked as a dental assistant in the private sector for 17 years. I have practiced in Texas, Virginia, Oregon and Florida.
In 1996, I went back to school to get my Associate of Science degree and became a dental hygienist. I graduated from Santa Fe Community College in Gainesville, Florida, in 2000 and have been practicing dental hygiene for nearly 20 years.
I have been with Village Dental for over a decade and absolutely LOVE working with the doctors and staff here. It is by far the best dental practice that I have ever worked for.
My favorite part of my job is getting to know my patients and talking with them about their families and life experiences. One of the best things about working here in The Villages is the knowledge and experience that my patients pass down to me each and every day.
In my spare time, I love to be with my family, as I am fortunate to have my children and grandchildren close by. I have three children: two boys and one girl. I also have four grandchildren: two boys and two girls. We enjoy barbecuing, hanging out at the pool and visiting the local theme parks. I also enjoy reading and watching movies with my husband.
Here at Village Dental, we are all one big family, and I like to treat my patients like an extension of that family. I am located at the Fieldcrest Drive location and look forward to meeting many new people who can further enrich my life and brighten my day!
Kelly
REGISTERED DENTAL HYGIENIST
I graduated from Santa Fe College, located in Gainesville, Florida, in 2000. I am originally from New York/New Jersey and moved here in 1995. I have been practicing as a hygienist and have been in dentistry for over two decades. I received my local anesthetic license in 2013. I have been working for Village Dental since 2007 and presently live in Ocala.
I love music, dancing, working on my house and having fun. I love Florida sunshine! It is way better than shoveling snow! I treat my patients like family and am very laid-back. Whatever works for my patients is good for me.
I always look forward to my next visits with my patients to hear all about the wonderful things they are doing and cannot wait to see you for your next hygiene appointment!
Laura
REGISTERED DENTAL HYGIENIST
Dentistry has been part of my life for over 30 years. After various other roles in the dental office, I graduated with a degree in dental hygiene from Daytona State College in 1997. I received my certificate to administer local anesthetic from the University of Florida in 2018.
I truly love working with patients. To me, there is nothing more gratifying than building relationships, developing trust, and helping patients achieve and maintain healthy smiles for their lifetimes.
Outside of the office, I enjoy spending time with my family. My husband, Lee, and I married in 1986. We live in Eustis, where we raised our children: two daughters and a son. We have also been promoted to "grand" parents and enjoy spending time with our grandchildren!
I was born and raised in Florida. On weekends, you can find me enjoying the great outdoors. We enjoy boating on one of the many beautiful lakes or rivers or in the gulf. We are also avid campers and enjoy the beauty of our state parks!
I am proud to be part of the Village Dental team. Providing excellent dental care is my promise to you, and I look forward to meeting you soon!
Chevis
REGISTERED DENTAL HYGIENIST
I was born and raised in Lake County, and I have watched the Lake and Sumter counties transform from watermelon fields and cow pastures into The Villages® community.
I grew up on a small farm and competed in rodeos from age 5 throughout college and into my adult life. I received a full scholarship to Western Texas College, where I competed in women's breakaway calf roping, goat tying and barrel racing. After graduating, I returned to southern Florida to continue my education. I completed my dental hygiene training at South Florida State College in 2007 and went on to receive my bachelor's degree in dental hygiene in 2009. I am excited that Florida now allows anesthetic licensing for hygienists — I received my local anesthetic license in 2017. I have been practicing as a hygienist for over a decade and in dentistry for over 15 years.
My greatest joys in life are my two sons. My older son attends The Villages Charter School and plays basketball and flag football. My family and I love Florida State football. I am blessed to have a very close relationship with my family. My mother and father live in Lady Lake, and my grandmother lives with me in Leesburg. My mother has been in dentistry for over 20 years, and my father was a schoolteacher and football coach in Wildwood for over 35 years. I also have a sister who is an endodontist and a brother-in-law who is a general dentist in San Diego.
One of my favorite things is providing oral health education. I love having conversations with my patients, and I always want the best for them and treat them like family.
I love working at Village Dental, which is why I was so happy to return after moving back from Jacksonville. I value God and my family. The doctors at Village Dental are great role models and peers, and I respect them both personally and professionally. I feel blessed to be part of their team.
Carolyn
REGISTERED DENTAL HYGIENIST
I was born in Wauwatosa, Wisconsin, the fourth of five children. My father attended dental school at Marquette University in Milwaukee, Wisconsin. At the age of one, my parents relocated our family to Ponce, Puerto Rico. We moved from Puerto Rico to Ocala, FL where I finished high school.
In 2011, I graduated from Santa Fe College in Gainesville, FL with an A.S. degree in Dental Hygiene. My hygiene career began in Ocala, but I have been working in The Villages® community since 2016.
I recently joined the Village Dental team and love it here. I am looking forward to being part of their family for many years to come. My passion is educating my patients so they are fully aware of what we are doing, answering why and showing them how we can help. It's my pleasure to meet all your smiling faces and make those smiles shine bright!
In 2016, I married the love of my life. We were blessed with a beautiful baby boy who's now a little over a year old. I spend all of my free time with my family and friends enjoying as much of the outdoors, as possible.
My hobbies vary from baking, going to the water (fresh or salty), grilling, camping, and spending time with our four-legged babies, as well. Lastly, music is another must-have for me, the genre does not matter, as long as you can move to it!
Brittany
REGISTERED DENTAL HYGIENIST
I graduated from Daytona State College with my degree in dental hygiene in 2012. I worked as a dental assistant for a short time but knew my true passion was to become a dental hygienist. I'm a true Florida girl! I was born and raised in Ocala, Florida. My parents still live in the same house I grew up in, and I am blessed to be able to see them quite frequently.
I married my high-school sweetheart eight years ago, and we currently live in Summerfield. We have been blessed with two beautiful girls who keep us very busy. I enjoy being outside in the sunshine. I'm a water girl and love spending time with my family on our boat catching fish in the Gulf or water skiing on the lake.
I absolutely love meeting new people and enjoy talking to my patients and hearing about their newest adventures. My goal is to provide a stress-free environment. I am very easygoing and laid-back; whatever I can do to make you feel comfortable, just let me know. I am very thankful to be part of the team at Village Dental and hope to see you soon!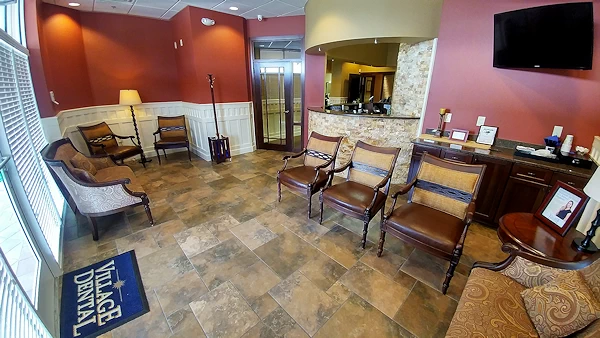 Dr. Edward J. Farrell, DMD, MAGD, AFAAID
Dr. Farrell founded Village Dental and has earned a Mastership Award from the Academy of General Dentistry.
Dr. Richard P. Hall II DMD, MAGD, AFAAID
Dr. Hall is a graduate of the  University of Florida College of Dentistry.
Dr. Michelle Dulgar, DMD
We are excited to have Dr. Dulgar join our team! She is a skilled dentist who will bring out the best in your smile.
Dr. Carson Smith, DMD
We are excited to have Dr. Smith as the newest member of our team!
WHAT OUR PATIENTS ARE SAYING
TESTIMONIALS
Berry B.
"The day I got my permanent teeth, I could eat again! Even my health problems are gone. Village Dental gave me more than a new smile. They gave me my life back."
James D.
"The staff is educated, professional, and willing to please. Village Dental does excellent work."
Joyce R.
"The spirit of the office is so friendly and professional, and Dr. Farrell is perfect for me. I can eat and smile comfortably again!"
Lisa D.
"The time that all staff members dedicated to me, and the technology and state-of-the-art equipment made it a really positive experience. Village Dental blew me away!
3 Convenient Locations in The Villages to Serve You!
Fieldcrest Location
540 Fieldcrest Drive
The Villages, FL 32162
Located on 466 near the Publix shopping center
LaGrande Office
111 Lagrande Blvd
The Villages, FL 32159

Located on 441 near Spanish Springs
Pinellas Office
2532 Burnsed Blvd
The Villages, FL 32163
Located in the Pinellas Shopping Plaza
Nextdoor Neighborhood Favorite FIVE Years in a Row!