The Village Dental Promise
Serving The Villages Community Since 1997
The Village Dental Promise
In order to give our patients the best possible dental treatments and truly memorable experiences, Village Dental resolves to use the Village Dental Care Approach to deliver five-star service to every person for every appointment. Five-star service is our signature approach to patient care, by which we always supply personalized pampering, professional people and expert procedures to our patients. We use our unique approach to patients, the Village Dental Care Approach, to make every patient feel valued.
Our dentists and team invite you to experience the difference a visit to Village Dental can make for you and your smile. Call 352-633-4145 today to learn more about our commitment to outstanding dental care in The Villages, Florida. A member of our team will help you schedule your visit. We have three convenient, golf cart-accessible locations.
PERSONALIZED PAMPERING
We want to give our patients a reason to smile as we serve them. Therefore, as part of our five-star service, Village Dental always offers luxuries, such as cable television and Wi-Fi, during appointments. When you come to us as a patient, we bring personalized care to you. During your appointment, you can listen to your favorite songs or be treated with the lights off. We also provide calming personal touches like blankets to keep you cozy and warm towels to keep you feeling refreshed. The Village Dental Care Approach aims to keep you comfortable in order to help you truly enjoy your dental appointment.
PROFESSIONAL PEOPLE
At Village Dental, we employ people of the highest caliber in order to achieve our purpose of offering first-rate services and friendly customer care. Our employees are always willing to improve their technical skills, interpersonal communication and interactions with patients. Village Dental team members are passionate about their work and motivated to achieve results that greatly exceed expectations and goals. The employees of Village Dental maintain the highest standards of quality and integrity in everything they do. That is part of the Village Dental Promise.
PROCEDURES OFFERED AS PART OF OUR FIVE-STAR SERVICE INCLUDE:
General, preventive, and cosmetic dental care
Comfortable, natural-looking dentures, crowns, and bridges
Permanent tooth replacement with implants
Full-mouth dental restoration
Nonsurgical treatment of gum disease
Endodontic care
Wisdom teeth extraction
Same-day smiles
Periodontal services
Periodontal treatment
Teeth whitening
Teeth straightening without braces (Invisalign® aligners)
Mouth guards, night guards, and snoring and sleep apnea devices
Head and neck pain evaluation and treatment
TMJ evaluation and treatment
Same-day denture repairs
Emergency dental care
FURTHER PROOF OF EXCELLENCE
In addition to the personalized pampering, professional people and proficient procedures, our five-star service also consists of many other outstanding facets of dental excellence and patient care. These facets include:
State-of-the-art instruments and techniques
Cone beam CT scanning
Lower radiation digital radiography
Mercury-free dentistry
Your dental work displayed on screen
Modern comforts during your dental treatment
Insurance filed for you
OUR FAMILY SERVING YOUR FAMILY
At Village Dental, we have built our practice on our solid reputation for delivering high-quality dental care in a clean, comfortable, professional and, most importantly, friendly environment. To ensure that our treatments reflect the most current developments in dentistry, we routinely receive advanced dental training and education. Part of that education includes caring for the special concerns of the mature adult portion of our practice. Our adult care may involve extensive tooth repair and replacement, as well as the cosmetic and functional restoration of the entire mouth.
The Village Dental Care Approach makes us stand out. Exceptional people address every step of your treatment so you can be confident that you will receive expert care from our dentists.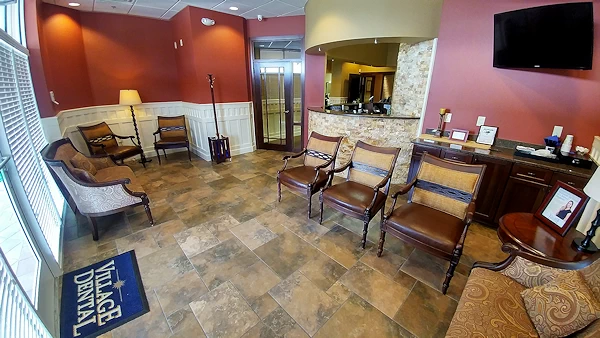 Dr. Edward J. Farrell, DMD, MAGD, AFAAID
Dr. Farrell founded Village Dental and has earned a Mastership Award from the Academy of General Dentistry.
Dr. Richard P. Hall II DMD, MAGD, AFAAID
Dr. Hall is a graduate of the  University of Florida College of Dentistry.
Dr. Michelle Dulgar, DMD
We are excited to have Dr. Dulgar join our team! She is a skilled dentist who will bring out the best in your smile.
Dr. Carson Smith, DMD
We are excited to have Dr. Smith as the newest member of our team!
WHAT OUR PATIENTS ARE SAYING
TESTIMONIALS
Berry B.
"The day I got my permanent teeth, I could eat again! Even my health problems are gone. Village Dental gave me more than a new smile. They gave me my life back."
James D.
"The staff is educated, professional, and willing to please. Village Dental does excellent work."
Joyce R.
"The spirit of the office is so friendly and professional, and Dr. Farrell is perfect for me. I can eat and smile comfortably again!"
Lisa D.
"The time that all staff members dedicated to me, and the technology and state-of-the-art equipment made it a really positive experience. Village Dental blew me away!
3 Convenient Locations in The Villages to Serve You!
Fieldcrest Location
540 Fieldcrest Drive
The Villages, FL 32162
Located on 466 near the Publix shopping center
LaGrande Office
111 Lagrande Blvd
The Villages, FL 32159

Located on 441 near Spanish Springs
Pinellas Office
2532 Burnsed Blvd
The Villages, FL 32163
Located in the Pinellas Shopping Plaza
Nextdoor Neighborhood Favorite FIVE Years in a Row!